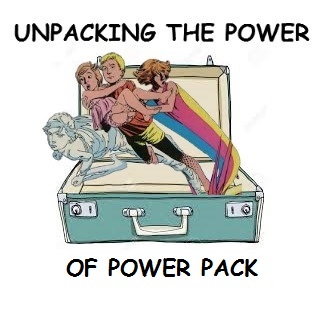 With special guest star Corey (@NewWarriorsTalk) from the New Warriors Continuity Conundrum and covering:
The New Warriors #47 - 50
Night Thrasher #11 - 12
Nova #6 - 7
OK, what is going on. This is a Power Pack Podcast and it is not Halloween. What is happening here?
So you see, after the original Power Pack run, Alex got his briefs in a bundle and he decided it was time to make a new family. One that really has issues...and I ain't talking about volume count.
So there is a reason why we are devoting some time to these books, but why so many at one time? Thank you disembodied voice for asking such a deep question.
We do not want to hit each issue for what is a passing reference to the oldest Power kid, so we are doing them in blocks. Four to be precise. After this, we promise to get back to single issues. This is just an experiment. Don't get mad.
Awkward. It will be interesting to see what we do the next time we run into one of these long series. But for now, we are just trying something out. Let us know how it is going.
Oh, I guess I should talk about this run....uhm....the New Warriors are tossed in the time-stream by some Egyptian dude and a new team is put together to save them.
Check out our website: https://jeffandrickpresent.wordpress.com/2021/09/12/the-new-warriors-overview-1/
Don't forget to support us on Patreon, https://www.patreon.com/JeffandRickPresent.  We have started to release monthly episodes for our Energizer and greater tiers. We are covering the alternate versions mini-series that started in 2005.
You can also subscribe and listen to us on YouTube! 
We also have some merchandise over at Redbubble. We have a couple of nifty shirts for sale. https://www.redbubble.com/people/jeffrickpresent/?asc=u
Our show supports the Hero Initiative, Helping Comic Creators in Need.  http://www.heroinitiative.org/
Eighties Action by Kevin MacLeod
Link: https://incompetech.filmmusic.io/song/3703-eighties-action
License: http://creativecommons.org/licenses/by/4.0/
Pinball Spring by Kevin MacLeod


Link: https://incompetech.filmmusic.io/song/4218-pinball-spring


License: 

https://filmmusic.io/standard-license



Share
|
Download(

Loading

)