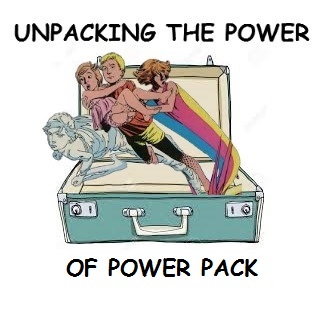 Another interview....are we insane!!!????!!! Well, maybe. We were not sure what we would be getting into once we asked Power Pack Inker Hilary Barta to talk with us...and we are still not sure what happened, but we do know it was a lot of fun.
The range of topics for the discussion wandered over art styling, development of skill, breaking into the business, lawn work, and animals. We also talked about some music, or at least his work on the comic version of Shakedown Street.
We also managed to talk a bit about his work on Power Pack and his friendship with Jon Bogdanove. It is always amazing to talk to creators who work with other great creators, and listening to stories and tales about how much they respect each other.
We also managed to ask him about some of his other work, specifically giving some of the love to Plastic Man. Hilary had the opportunity to draw a mini-series that he was very proud about.
But above all else, we were able to talk about his love of the wacky and crazy. From his Screwy Tuesday posts to his Mars Attacks work and especially his work on What The!? Hilary is someone who loves the silly and goofy.
Check out our website: https://jeffandrickpresent.wordpress.com/2021/08/29/interview-with-hilary-barta/
Don't forget to support us on Patreon, https://www.patreon.com/JeffandRickPresent.  We have started to release monthly episodes for our Energizer and greater tiers. We are covering the alternate versions mini-series that started in 2005.
You can also subscribe and listen to us on YouTube! 
We also have some merchandise over at Redbubble. We have a couple of nifty shirts for sale. https://www.redbubble.com/people/jeffrickpresent/?asc=u
Our show supports the Hero Initiative, Helping Comic Creators in Need.  http://www.heroinitiative.org/
Eighties Action by Kevin MacLeod
Link: https://incompetech.filmmusic.io/song/3703-eighties-action
License: http://creativecommons.org/licenses/by/4.0/
Share
|
Download(

Loading

)