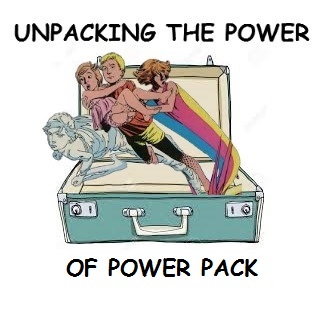 YESSSSS!!!! We made it.! This is the content you crave by the creators you love! The PACK IS BACK BABY!!!! WHOOOOO HOOOOO
Ok, we needed to get that out of our system. This is some prime time, grade A, Power to the Packing good time. The kids are on their way (finally) to talk to the horse heads about what is happening to their family. And you better believe it is all going to hit the fan!
We have Kymelians, Snarks, Smartships, and freaky eye balls...and...oh my word....do we have a human looking Alex!!! How did that happen, what is going on? Is Alex actually a lizard? Did he finally shed his horse skin for his original human form? Is this Kymelian puberty? TUNE IN TO FIND OUT!
When all is said and done, we have a good book with the original creators, banging out a great retcon that fixes the problems the past creators left. This is a good thing. And well deserved. And, they did not need to blow up the story with a missile pointed at the floor.
Oh...I guess they did. Well, as we always say here on UPtPoPP....There is nothing worth doing if you are not willing to overdo it. This applies to blowing things up too!
To view the art from this issue, check out our website: https://jeffandrickpresent.wordpress.com/2021/06/06/power-pack-holiday-special-1-part-1-small-changes/
Don't forget to support us on Patreon, https://www.patreon.com/JeffandRickPresent.  We have started to release monthly episodes for our Energizer and greater tiers. We are covering the alternate versions mini-series that started in 2005.
You can also subscribe and listen to us on YouTube! 
We also have some merchandise over at Redbubble. We have a couple of nifty shirts for sale. https://www.redbubble.com/people/jeffrickpresent/?asc=u
Our show supports the Hero Initiative, Helping Comic Creators in Need.  http://www.heroinitiative.org/
Eighties Action by Kevin MacLeod
Link: https://incompetech.filmmusic.io/song/3703-eighties-action
License: http://creativecommons.org/licenses/by/4.0/


There It Is by Kevin MacLeod
Link: https://incompetech.filmmusic.io/song/4519-there-it-is
License: https://filmmusic.io/standard-license



Share
|
Download(

Loading

)