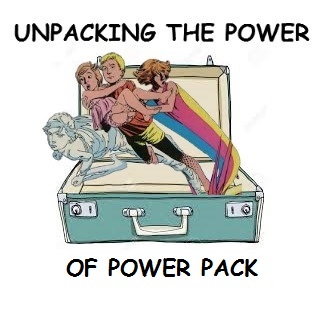 We are at the penultimate issue of the original Power Pack run...and it is not looking good folks. There have been some really good story lines in the past 60 issues of this run, and there are some really good threads that the book could go out on, but focusing on a plot by the Red Ghost was never in the running.
So where did we start and where are we now? There is a maxim that states something about giving an infinite number of monkeys an infinite number of typewriters with an infinite amount of time, they will eventually write the works of Shakespeare. Things are feeling like it is two "scientists" playing with an old Russian guy, three apes, and 24 page count.
Let's unpack a bit, shall we. This feels like a Fantastic Four jam. It has the worlds greatest comic team, and it features an old FF villain. The Pack takes a a back seat in this story while the adults rush in.
And when we say heroes, we may not mean real heroes. Real heroes take time to deal with all of the damage caused by some bad thing. Here we have the heroes rushing in to save heroes. Which is a choice I guess.
You would think and hope that with all of this rushing some cool stuff would be happening, but it really just all leads to more rushing.
And then, then we have Jim in a Kymellian costume with a body by P90X. So....we got that going for us.
I really do not know who needed or asked for this, but here we are.
To view the art from this issue, check out our website:https://jeffandrickpresent.wordpress.com/2021/04/11/power-pack-61-ghost-of-a-chance/
Don't forget to support us on Patreon, https://www.patreon.com/JeffandRickPresent.  We have started to release monthly episodes for our Energizer and greater tiers. We are covering the alternate versions mini-series that started in 2005.
You can also subscribe and listen to us on YouTube! 
We also have some merchandise over at Redbubble. We have a couple of nifty shirts for sale. https://www.redbubble.com/people/jeffrickpresent/?asc=u
Our show supports the Hero Initiative, Helping Comic Creators in Need.  http://www.heroinitiative.org/
Eighties Action by Kevin MacLeod
Link: https://incompetech.filmmusic.io/song/3703-eighties-action
License: http://creativecommons.org/licenses/by/4.0/


Rainbows by Kevin MacLeod
Link: https://incompetech.filmmusic.io/song/4261-rainbows
License: https://filmmusic.io/standard-license
Share
|
Download(

Loading

)