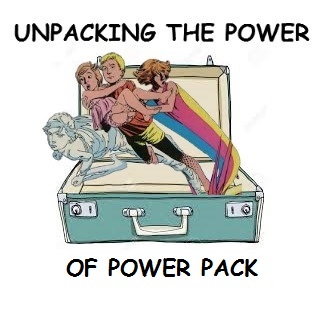 Step right up! Step right up! Welcome one and all to the greatest show on Earth, presented by Jeff and Rick! It is the one...the only...UNPACKING THE POWER OF POWER PACK!!!!
See! The lights of the universe! The infinity of the world! The grandness of timeless space!!! The insanity that comes from seeing it all!!!
Bring your family! Bring your friends! If your family has left you alone, then bring a completely mysterious stranger! Just bring yourself! You do not want to miss this!!!! Even if your family hates you!!!
Enjoy the magic of the big top! Experience the smells and sounds!!! Take a trip, and do it now!!! Don't wait for anyone to tell you no!!! RUNAWAY FROM HOME AND JOIN THE CIRCUS!
Meet the master of the circus! Listen to his riveting speeches and watch his mesmerizing performances!!! Enjoy the feeling of your wallet being lightened by the wondrous side shows and entertainment!!!
Meet the wonderful and amazing performers! Listen to their tales of mystery and excitement! Watch how they hop, leap, fly, and steal their way into your heart and imagination! Be one of the audience and experience the wonder!!!
Come to the circus!!!! Enjoy the sites and the sounds!!!! Meet your new family!!! Learn how to steal, rob, and take everything you possibly can from anybody and everybody!!!
NOW FORGET YOU WERE EVER TOLD ANY OF THIS!!!!!
To view the art from this issue, check out our website: https://jeffandrickpresent.wordpress.com/2021/03/14/power-pack-59-at-the-circus/
Don't forget to support us on Patreon, https://www.patreon.com/JeffandRickPresent.  We have started to release monthly episodes for our Energizer and greater tiers. We are covering the alternate versions mini-series that started in 2005.
You can also subscribe and listen to us on YouTube! 
We also have some merchandise over at Redbubble. We have a couple of nifty shirts for sale. https://www.redbubble.com/people/jeffrickpresent/?asc=u
Our show supports the Hero Initiative, Helping Comic Creators in Need.  http://www.heroinitiative.org/
Eighties Action by Kevin MacLeod
Link: https://incompetech.filmmusic.io/song/3703-eighties-action
License: http://creativecommons.org/licenses/by/4.0/


 Urban Gauntlet by Kevin MacLeod
 Link: https://incompetech.filmmusic.io/song/5012-urban-gauntlet
 License: https://filmmusic.io/standard-license 
  
Share
|
Download(

Loading

)