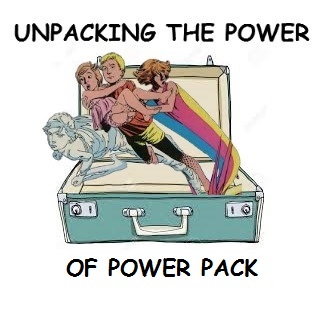 Wait!!!! What is happening here! This is a Power Pack podcast, what is this New Mutants comic doing here? This is not Halloween.....What is Mephisto up to????
ACTS OF VENGEANCE!!!!
Oh....ok....that explains it. Jeff and Rick have been invited to play with a mess of other pod-casters who are all covering different issues of the Acts of Vengeance crossover from the 1990's. Luckily they invaded Derek Crabbe from the Fanholes website to help them out.
Ok., the Acts of Vengeance thingy was this big event where heroes fought villains who were outside of their own rogues gallery. In this case, they used two characters who were tan gently associated with the New Mutants to fight the Vulture.
That is right, Rusty and Skids, those two crazy kids from the early days of X-Factor are in prison and trying to stop a bad guy. Good on you two! Way to not let the man keep you down.
But what about the real New Mutants you might task, where are they during this chaos? Are they sitting around trying on new costumes in preparation for the Leifeld run? Are they shrinking their feet? Nah.....well yeah....but they are really just on Asgard.
Back on earth, we are left with the worst episode of Judge Judy. A plan that is so bad......we have a few how bad are they jokes. And we have a guy that explodes.
So what does this mean to our listeners.....well probably just a lot of laughs. I mean, it is always enjoyable to watch people fall off a high-wire.
A Proud Participant in the Merry Marvel MARCHing Society 2021 event! 
3rd Degree Byrne
Back 2 The Bins/Avengers Spotlight
Coffee & Comics
Comic Book Time Machine
DoomSpeak
Fanholes Podcast
Fire & Water Podcast Presents
Head Speaks
Into The Weird
Justice Not Entirely Dissimilar To Lightning - A Thunderbolts Podcast
Longbox Crusade
Make Ours Marvel  
Married With Comics 
Resurrections: An Adam Warlock Podcast
Rolled Spine PodcastsViews From The Longbox
Don't forget to support us on Patreon, https://www.patreon.com/JeffandRickPresent.  We have started to release monthly episodes for our Energizer and greater tiers. We are covering the alternate versions mini-series that started in 2005.
To view the art from this issue, check out our website: https://jeffandrickpresent.wordpress.com/2021/03/07/new-mutants-83-bang-youre-dead/
You can also subscribe and listen to us on YouTube! 
We also have some merchandise over at Redbubble. We have a couple of nifty shirts for sale. https://www.redbubble.com/people/jeffrickpresent/?asc=u
Our show supports the Hero Initiative, Helping Comic Creators in Need.  http://www.heroinitiative.org/
Eighties Action by Kevin MacLeod
Link: https://incompetech.filmmusic.io/song/3703-eighties-action
License: http://creativecommons.org/licenses/by/4.0/


Strength Of The Titans by Kevin MacLeod
Link: https://incompetech.filmmusic.io/song/5744-strength-of-the-titans
License: https://filmmusic.io/standard-license



Share
|
Download(

Loading

)