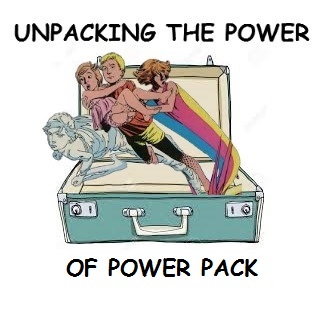 Well helllllo there big boy, how are you doing? It will sure be nice to see an old familiar like Galactus in this issue. I mean, we have been inundated with with a mess of characters of mysterious origins or deep Marvel past, so it will be nice to have an old familiar.
We need a big, and I mean BIG star to show up and set this Power Pack ship right. And the big purple people and planet eater is just what the doctor ordered.
Wait.....that is it. Like a few panels and the gifting of a parting gift. What is this nonsense! I want a planetary visit I want an invasion! I want a comedic misunderstanding where he walks in on someone changing! I want my MTV!
Instead, it seems that I just get some mysterious Joe Schmoe, creeping up in our favorite spaceship, with our favorite unconscious little boy. Yeah, bring on the lounge songs after your free spa day on Friday. I mean...WHO IS THIS GUY?
Ok. Not a big fan of any of these rando's in the comic, but if you can give me an alien packing a very large Terminator type gun, you will have my attention for a moment. I am just hoping that he is on his way to have a talk with some of the creative team.
At this point, we really do not know who is doing the most heavy lifting on this book. It probably is the fans, wanting something new or better than what we are getting. The concept is good, but it just fails in the wrong hands.
Speaking of the people who are really upset, I think we all nee to take a moment for Jim Power. Just take a look at this poor guy. One day, he has a wonderful beard, full of life and wonderful texture, then the next day...just a mustache. Why, I bet tomorrow it comes back...with a vengeance. We shall have to see. Oh, also he just found out his kids have super powers.
We will continue to look for and celebrate the positive as we move forward with this book. Sometimes it will take a really big energy blast to keep us on track, but that is OK. Sometimes we need to have a swift kick in the script to keep us in line.
And on this disturbing note, and picture, let's take our leave of our fair heroes. They have got their hands full with this new team, and Alex's changes and other stuff. Let's just take a break for now, shall we?
Don't forget to support us on Patreon, https://www.patreon.com/JeffandRickPresent.  We have started to release monthly episodes for our Energizer and greater tiers. We are covering the alternate versions mini-series that started in 2005.
To view the art from this issue, check out our website: https://jeffandrickpresent.wordpress.com/2021/02/28/power-pack-58-star-struck/
You can also subscribe and listen to us on YouTube! 
We also have some merchandise over at Redbubble. We have a couple of nifty shirts for sale. https://www.redbubble.com/people/jeffrickpresent/?asc=u
Our show supports the Hero Initiative, Helping Comic Creators in Need.  http://www.heroinitiative.org/
Eighties Action by Kevin MacLeod
Link: https://incompetech.filmmusic.io/song/3703-eighties-action
License: http://creativecommons.org/licenses/by/4.0/


Tyrant by Kevin MacLeod
Link: https://incompetech.filmmusic.io/song/5031-tyrant
License: https://filmmusic.io/standard-license
  
Share
|
Download(

Loading

)