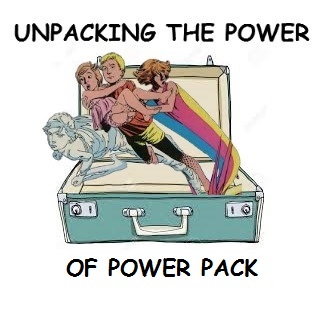 Who is that knocking on the door to our spaceship?.....Why none other than Shagg from the Fire and Water Network! While he may have heard the word fire, and seen a pretty lady on the cover, I think that he thought that Storm was going be in this issue as he kept saying, and messing up, her name.
Firestorm, Firestorm, Firestorm...the man is confused. This isn't an X title and that isn't Storm's proper name anyways. But, that said, I can see how he might have been confused. If this was Storm, and she now had flame powers then this name makes perfect sense. After all, this character could be a "Super Star"!!
Wait, was this Storm in one of the X titles? Maybe an Inferno issue that I missed? So hard to keep up with all the different storylines and heel turns that go on every six months.
Ahhh, our resident Talking Head informs me that I am the one that is confused. Shagg is referencing his favorite character that happens to be on a different network and that this is actually Nova...no, not that one...in her Human Torch form and her in her Twisted Cosmic Tea form that somehow turned her incompetent and evil. Good to know Talking Head, thanks for the info!
Talking Head says that there is a price for knowledge that I must pay. I wonder what he means by that?
My hair!! Talking Head ate my hair! This is driving me loopy!!
And speaking of going loopy. Julie feels the same way about Talking Heads unexpected prices.
Also unexpected, were a couple of beefy adults cosplaying as Alex and Jack.
And speaking of beefy adults, feast your eyes on these guys! (Shagg, Rick and Jeff...only one of us was smart enough to bring an action figure to play with in case they got bored.
And speaking of feasting your eyes, these eyes seem like they have feasted to much. They have seen things. Things they were never meant to see. Things like:
A spaceship fighting a giant lizard man in Central Park that is only wearing their tighty whities...yeah, you heard me right.
And this Underoos championing space beast can only be defeated by The Stimulator!! Just to make sure you heard me: The Stimulator has to be used on the bikini briefs beast before bedtime...boy, what a bother!
To view the art from this issue, check out our website: https://jeffandrickpresent.wordpress.com/2021/02/14/power-pack-57-fire/
Don't forget to support us on Patreon, https://www.patreon.com/JeffandRickPrecnsent.  We have started to release monthly episodes for our Energizer and greater tiers. We are covering the alternate versions mini-series that started in 2005.
You can also subscribe and listen to us on YouTube! 
We also have some merchandise over at Redbubble. We have a couple of nifty shirts for sale. https://www.redbubble.com/people/jeffrickpresent/?asc=u
Our show supports the Hero Initiative, Helping Comic Creators in Need.  http://www.heroinitiative.org/
Eighties Action by Kevin MacLeod
Link: https://incompetech.filmmusic.io/song/3703-eighties-action
License: http://creativecommons.org/licenses/by/4.0/


Neon Laser Horizon by Kevin MacLeod
Link: https://incompetech.filmmusic.io/song/7015-neon-laser-horizon
License: https://filmmusic.io/standard-license



Share
|
Download(

Loading

)