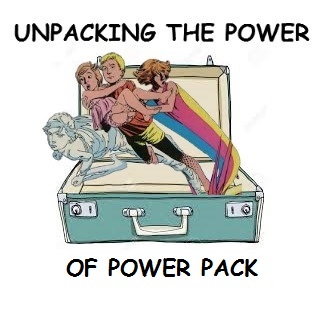 Get ready for a creepy and spoooooooky issue!!!!!!!
Now, you may have noticed I mentioned that this would be spooky, and it is. But it is also funny. I mean, yes...there are ghosts and ghouls and jump scares, but there are also a lot (and we mean a lot) of toilets.
We have a ghost cam, a toilet cam, a wire cam, and even just people mentioning toilets. You could say that we are left with nothing but potty humor.
Now that Maggie has stuck her tongue at us, we must ask ourselves, what else should we talk about. And should we do it in the bathroom?
To be fair, the kids are not hanging out in the bathroom all day, waiting for some TP robber to come along. The kids do get out and interact with art at a museum. Of course Jack ruins it...but it in a tasteful way.
I guess the question would be why is this all occurring? Is this a giant plan to drive mama Power insane? Why do people hate toilets so much? If only Alex would discover something.
Also, we cover a couple of Fantastic Four issues that have some Power Pack moments in them. Not enough to have their own episodes, so we did a drop in. For posterity sake, these would be Fantastic Four #337 and Fantastic Four Annual #23. Now that we have said that, here are some monsters.
Don't forget to support us on Patreon, https://www.patreon.com/JeffandRickPresent.  We have started to release monthly episodes for our Energizer and greater tiers. We are covering the alternate versions mini-series that started in 2005.
To view the art from this issue, check out our website: https://jeffandrickpresent.wordpress.com/2021/01/17/power-pack-55-mysterio/
You can also subscribe and listen to us on YouTube! 
We also have some merchandise over at Redbubble. We have a couple of nifty shirts for sale. https://www.redbubble.com/people/jeffrickpresent/?asc=u
Our show supports the Hero Initiative, Helping Comic Creators in Need.  http://www.heroinitiative.org/
Eighties Action by Kevin MacLeod
Link: https://incompetech.filmmusic.io/song/3703-eighties-action
License: http://creativecommons.org/licenses/by/4.0/


Hit the Streets v2 by Kevin MacLeod
Link: https://incompetech.filmmusic.io/song/3878-hit-the-streets-v2
License: http://creativecommons.org/licenses/by/4.0/
Share
|
Download(

Loading

)