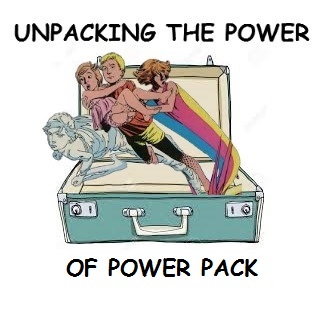 Do you like dinosaurs! That is not a question, it is a statement! YOU....LIKE......DINOSAURS!!!
OKAY! You are a kid with some money! You are at a mall with your bestest friend! There is a food court, a toy store, and a DINOSAUR EXHIBIT! What can make this any better?????
How about having the writer of the New Warriors Continuity Conundrum,Corey (@NewWarriorsTalk) on to help us out! Like I said....BEST! DAY! EVER!
The best thing!!!!The most wonderful thing!!!! Your story is being told by Judy Bogdanove and drawn by Jon Bogdanove. Is that cool or what? It is like beating up a dino-Mr. Fantastic!
But what are we doing here? Watching some kids play, having fun, kicking some booty...or cleaning their rooms? Why we are doing all of those things, and we are having a lot of fun doing it!
Many people will tell you that when you are fighting dinosaurs, you should always lead with your right foot. Actually, nobody says that, but what people do say is that Jack fighting a dino is awesome!
What about villains....do we have any cool villains....? Well, sure...I guess....you could say that. I mean, I guess that the Mad Thinker is a well known villain, and he has a pedigree. You could also say that Jack is a villain in training.
Speaking of double vision, check out there being two Franklins. How did that happen? What is going on? Why does our sweet little boy have a duplicate?
Just because we want to leave you in a little bit of suspense, we will not tell you what is happening, but we will leave you with a couple of images of him being eaten.....that should make you afraid.
To view the art from this issue, check out our website: https://jeffandrickpresent.wordpress.com/2020/12/20/power-pack-54-dino-might/
Don't forget to support us on Patreon, https://www.patreon.com/JeffandRickPresent.  We have started to release monthly episodes for our Energizer and greater tiers. We are covering the alternate versions mini-series that started in 2005.
You can also subscribe and listen to us on YouTube! 
We also have some merchandise over at Redbubble. We have a couple of nifty shirts for sale. https://www.redbubble.com/people/jeffrickpresent/?asc=u
Our show supports the Hero Initiative, Helping Comic Creators in Need.  http://www.heroinitiative.org/

Eighties Action by Kevin MacLeod
Link: https://incompetech.filmmusic.io/song/3703-eighties-action
License: http://creativecommons.org/licenses/by/4.0/


Hit the Streets v2 by Kevin MacLeod
Link: https://incompetech.filmmusic.io/song/3878-hit-the-streets-v2
License: http://creativecommons.org/licenses/by/4.0/



Share
|
Download(

Loading

)