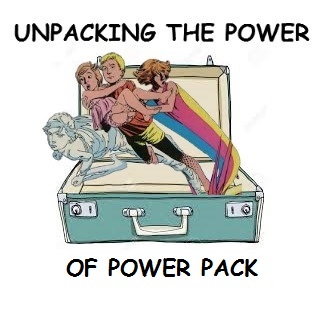 Let me be real with you guys....this is not our favorite issue. There are problems within it. Art, story, characters....you name it. With that in mind, let's see if we can start off with the positives.
This really awesome interior cover was done by friend of the show, Jon Bogdanove. It features the kids with their new powers, and Franklin. Katie is holding up Franklin and Jack, who is shooting a powerball. Julie and Alex are flying in the background. It is pretty awesome.
Then we have the rest of the book. Okay. Positive...positive.......Dr. Doom is in the book as part of Acts of Vengeance. He also has a plan. But, he is not the best Doom and his plan is kinda lame.
I guess you could say this issue is a giant puzzle. But it is a 20 piece puzzle made of big pieces that are all individual colors and they don't go together and they don't form anything.
And your brother jumps over the puzzle knocking it over repeatedly.
Positive....positive....Okay...here is something positive. It looks like Alex and Julie are hitting that serious growth spurt that comes in the teenage years. I mean, they are as tall, or taller than their father, and they are just giants compared to Jack and Katie. So, that is a positive, right?
Maybe I was a little too sassy in that last paragraph. Let me try again....how about this note. It has great cursive, and looks very nice. As far as the content goes and how it is the weakest trap that was ever set yet Alex falls for it......well.
What about that trap? Well, let's take a look at that. The bad gal waits for Alex to show up, reveals herself, then has him watch as she harms his dad. Fine....Okay. At least she has a nice coat.
Keeping on with the positive theme, it also appears that Alex is really hitting the protein shakes to help with those growth spurts. 'Cause the boy is getting THICK. I mean, Gold's Gym has a new spokesman. Watch out.
All in all....I guess this could have been worse. I mean...it was not Weekend at Bernie's 3!
To view the art from this issue, check out our website: htps://jeffandrickpresent.wordpress.com/2020/12/06/power-pack-53-chinks-in-the-armor/
Don't forget to support us on Patreon, https://www.patreon.com/JeffandRickPresent.  We have started to release monthly episodes for our Energizer and greater tiers. We are covering the alternate versions mini-series that started in 2005.
You can also subscribe and listen to us on YouTube! 
We also have some merchandise over at Redbubble. We have a couple of nifty shirts for sale. https://www.redbubble.com/people/jeffrickpresent/?asc=u
Our show supports the Hero Initiative, Helping Comic Creators in Need.  http://www.heroinitiative.org/
Eighties Action by Kevin MacLeod
Link: https://incompetech.filmmusic.io/song/3703-eighties-action
License: http://creativecommons.org/licenses/by/4.0/


Video Dungeon Boss by Kevin MacLeod
Link: https://incompetech.filmmusic.io/song/4583-video-dungeon-boss
License: http://creativecommons.org/licenses/by/4.0/



Share
|
Download(

Loading

)