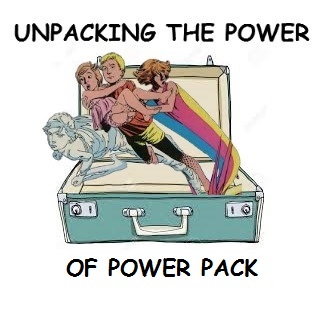 Did you all check out that cover....Yes? No? Check again. Notice the costumes. Got it? Good. This happens.
You may be asking yourself how we got here. If you are, good. That is a great way to start. Well let me tell you, it is because of a lot of unpleasantness from the big Q.
She has been mean before, but now she has really pushed the line. She has made her bed, and she has to sleep in it. She has crossed the proverbial line, and now must pay the piper.
Not only has she taken the kid's powers, but she is holding them up by the hair. There is mean and evil, and then there is just bad manners. You do not go pulling someone's hair just because you can. Are we on a playground here!?
Apparently we are. Way to keep things classy there Franklin. I mean....sticking out your tongue at a queen. What kind of manners have your parents taught you....you know...when your parents were around and not in another dimension?
But now we get to the good stuff. Now we get to the part in the western where the bar fight happens, and the scrappy hero starts to throw the punches around.
You know the scene. Everything looked hopeless and then the tide turned. Then a second wind happens. Then the small child has the alien on its back. Then it is time for the final act.
And what a final act it is with the hero boy bright and glowing and ready to lay the smacketh down.
To view the art from this issue, check out our website: https://jeffandrickpresent.wordpress.com/2020/11/22/power-pack-52-the-bitter-end/
Don't forget to support us on Patreon, https://www.patreon.com/JeffandRickPresent.  We have started to release monthly episodes for our Energizer and greater tiers. We are covering the alternate versions mini-series that started in 2005.
You can also subscribe and listen to us on YouTube! 
We also have some merchandise over at Redbubble. We have a couple of nifty shirts for sale. https://www.redbubble.com/people/jeffrickpresent/?asc=u
Our show supports the Hero Initiative, Helping Comic Creators in Need.  http://www.heroinitiative.org/
Eighties Action by Kevin MacLeod
Link: https://incompetech.filmmusic.io/song/3703-eighties-action
License: http://creativecommons.org/licenses/by/4.0/


Tenebrous Brothers Carnival - Snake Lady by Kevin MacLeod
Link: https://incompetech.filmmusic.io/song/4476-tenebrous-brothers-carnival---snake-lady
License: http://creativecommons.org/licenses/by/4.0/
Share
|
Download(

Loading

)