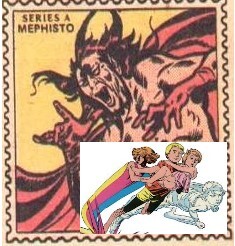 Happy Halloween!!!! Would you believe that Mephisto showed up again? Yup...he is causing mischief...but his heart just is not in it this year. I guess he feels that there is enough bad stuff happening that he just does not have enough energy for us. Whatever. His loss our gain.
Due to some Zoom and Gmail hi jinks, Rick, Tim, and Al end up chatting about Frankenstein Alive, Alive issues 3 and 4. And it is a good thing too. Earlier, on the Resurrections podcast they were reviewing the first two issues.
What is there to say about these books.....well...according to the run time, a lot. The art is gorgeous, and the story hints at a deeper narrative that was supposed to go longer than it did.
Time caught up with the creator, Bernie Wrightson, before he could properly end the book. He was able to pick his successor to finish his drawings based on sketches. What we are left with is a beautiful and tragic collection.
This was an interesting book to read and experience for the first time, and it was an enjoyable conversation with some friends. It is always fascinating to discover something new and beautiful.
Normally these narratives are funny or silly, sometimes downright nonsense. This time, it just did not feel appropriate. This time it just felt better to celebrate the delicate pencils and drawings of the artist.
Sometimes you just need to take a moment, and really look at some art work, and appreciate the skill and craftsmanship.
Follow the entire crossover event
"Mephisto vs The Podcasters"
using the links below!
Don't forget to support us on Patreon, https://www.patreon.com/JeffandRickPresent.  We have started to release monthly episodes for our Energizer and greater tiers. We are covering the alternate versions mini-series that started in 2005.
You can also subscribe and listen to us on YouTube! 
We also have some merchandise over at Redbubble. We have a couple of nifty shirts for sale. https://www.redbubble.com/people/jeffrickpresent/?asc=u
Our show supports the Hero Initiative, Helping Comic Creators in Need.  http://www.heroinitiative.org/
Eighties Action by Kevin MacLeod
Link: https://incompetech.filmmusic.io/song/3703-eighties-action
License: http://creativecommons.org/licenses/by/4.0/

Share
|
Download(

Loading

)