Episodes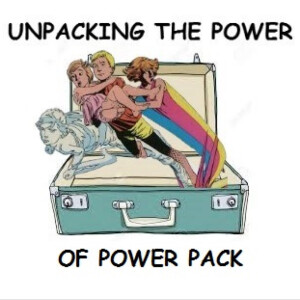 Sunday Oct 11, 2020
Sunday Oct 11, 2020
We are going to start with a trigger warning on this issue. This deals with family issues, child abuse, and runaways. We understand if these are upsetting topics and you want to skip this episode.
That said, we need to say a big thank you to our friend Alexander, aka Waffles (@wafflesthemagic). He joins us all the way from New Zealand to help us review the good half of this free comic book from 1986.
Because this episode deals with more serious content, this will be a more subdued post about the issue. In fact, I think we will post some information that we talk about during the episode.
How to report sexual child abuse:
It is a crime no matter how young the victim or who the offender is. There is an agency in every state that is mandated by state law to receive and investigate reports.
Treatment for sexual abuse:
Sexual abusers and their families can be helped.  Parents United is one national self-help organization. https://www.nsvrc.org/find-help
Help if you've been sexually abused:
The low self esteem, anger and guilt often experienced by victims can lead to a variety of problems later.  Discussion and therapy groups are often helpful. There are local organizations to help survivors. https://www.rainn.org/national-resources-sexual-assault-survivors-and-their-loved-ones
Want to help or need more information:
More information can be found at the following address. https://preventchildabuse.org/
The number one thing we cannot repeat enough, if you are a survivor of child abuse, it is not your fault. There are trained, professional people who are around to help you. Never be afraid to reach out if you need to.
To view the art from this issue, check out our website: https://jeffandrickpresent.wordpress.com/2020/10/11/spider-man-power-pack-runaway/
Don't forget to support us on Patreon, https://www.patreon.com/JeffandRickPresent.  We have started to release monthly episodes for our Energizer and greater tiers. We are covering the alternate versions mini-series that started in 2005.
You can also subscribe and listen to us on YouTube! 
We also have some merchandise over at Redbubble. We have a couple of nifty shirts for sale. https://www.redbubble.com/people/jeffrickpresent/?asc=u
Our show supports the Hero Initiative, Helping Comic Creators in Need.  http://www.heroinitiative.org/
Eighties Action by Kevin MacLeod
Link: https://incompetech.filmmusic.io/song/3703-eighties-action
License: http://creativecommons.org/licenses/by/4.0/

Raving Energy (faster) by Kevin MacLeod
Link: https://incompetech.filmmusic.io/song/5030-raving-energy-faster-
License: http://creativecommons.org/licenses/by/4.0/