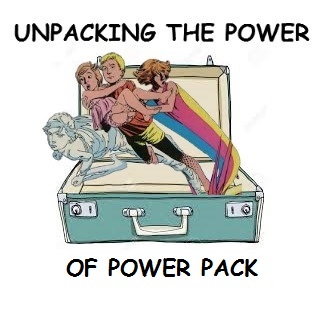 We are back from our two episode interview break with a new story line! Jon Bogdonove is taking the kids, and us, all the way to his favorite little island for a nice, simple vacation....with FRANKLIN RICHARDS!!! We also have our favorite little fan to help us out....TIM PRICE!!!!
But you may be asking yourself, "Self, how did I get here? This is not my wonderful car?...."
"...These are not my wonderful parents?...."
".....These are not my wonderful friends?....."
"....Letting the days go by....let the water hold me down!"
RICK!!!!
Yeah Jeff?
Focus!!!!
Right.....Okay...So the Power Pack plus one are going out in the beautiful New England country to do some serious R&R...and they are probably not singing a Talking Heads song.
But while they are on their vacation, the Power Pack signal lights up the night, calling them out of their vacation and into action!!
Dude, that is a lighthouse!
Whatever....
Faster than you can say "Okay, Charlie", the kids find themselves caught up in the plight of sick dolphins, and poor Franklin finds himself in the dreams of dolphins, and we the reader are treated to some AMAZING art!
But at least the kids appreciate their fathers once in a lifetime car purchase......
You can also check out our website: https://jeffandrickpresent.wordpress.com/2020/09/13/power-pack-48-dolphin-dreaming/
Don't forget to support us on Patreon, https://www.patreon.com/JeffandRickPresent.  We have started to release monthly episodes for our Energizer and greater tiers. We are covering the alternate versions mini-series that started in 2005.
You can also subscribe and listen to us on YouTube! 
We also have some merchandise over at Redbubble. We have a couple of nifty shirts for sale. https://www.redbubble.com/people/jeffrickpresent/?asc=u
Our show supports the Hero Initiative, Helping Comic Creators in Need.  http://www.heroinitiative.org/
Eighties Action by Kevin MacLeod
Link: https://incompetech.filmmusic.io/song/3703-eighties-action
License: http://creativecommons.org/licenses/by/4.0/


Night Break by Kevin MacLeod
Link: https://incompetech.filmmusic.io/song/4125-night-break
License: http://creativecommons.org/licenses/by/4.0/
Share
|
Download(

Loading

)