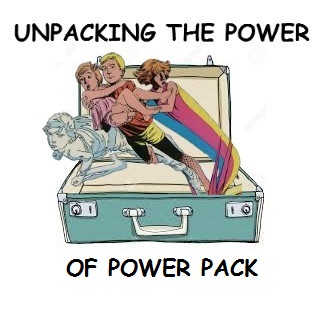 Would you believe, we covered another comic, one that just guest stars Power Pack?...And we are not just goofing on Elvis.....
OK, Andy Kaufman allusions aside....let's talk about this inconsequential little Giant-Sized book. I say that because it really does not further any Power Pack story-line...or any real story-line about Franklin Richards. It does not really affect X-Factor, or is at least never referred back to, to my knowledge. So why are we covering this. Why, to make you cry!
Well...Why not? It has the Pack doing some cool stuff, so why not?
Your still crying, aren't you....well, it pads out how many episodes we get to do, which means we have to sometimes bend a bit to make things work.
And the art is intresting.
And it has Lockjaw...so, bonus points!
Don't forget to support us on Patreon, https://www.patreon.com/JeffandRickPresent.  We have started to release monthly episodes for our Energizer and greater tiers. We are covering the alternate versions mini-series that started in 2005.
You can also check out the art we talk about at our website: https://jeffandrickpresent.wordpress.com/2019/11/10/x-factor-annual-2-the-man-in-the-moon/
We also have some merchandise over at Redbubble.  We have a couple of nifty shirts for sale. https://www.redbubble.com/people/jeffrickpresent/?asc=u
Our show supports the Hero Initiative, Helping Comic Creators in Need.  http://www.heroinitiative.org/
Share
|
Download(

Loading

)