Episodes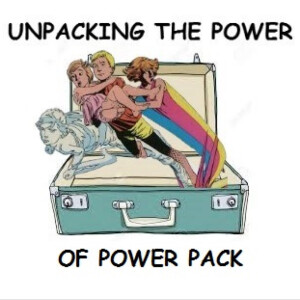 Sunday Jul 07, 2019
Sunday Jul 07, 2019
We have one word for you: SMORELOCKS…… Don't worry, you will get it later. 
Oh….I have more words for you: Miles Stokes from Jay and Miles Xplain the X-Men! ( https://www.xplainthexmen.com/ )
Yes! We have the most awesome and excellent Miles on our show…..because it is about time we did!  Ok...to be fair, that may not have worked as well as I wanted it to. Moving on, don't look back! This episode is the intense Mutant Massacre crossover. While primarily focusing on the mutant X-Titles, the Simonsons decided to bring in their own properties of Thor and Power Pack to witness the horrific death and destruction brought on by the Marauders…..yay? Don't you worry none, there is some fun stuff too...I guess.
 And what do our sweet, sweet kids have to endure? Just death, violence, a nearly shirtless Wolverine, and Sabertooth. So grab your galoshes and check your Red Cross Donor card, because it is time to go back in the sewers!
Like always, if you don't want to listen you don't have to...but if you don't, guess what....Jack will hit you....and you would not want that.
Don't forget support us on Patreon, https://www.patreon.com/JeffandRickPresent.  We have started to release monthly episodes for our Energizer and greater tiers. We are covering the alternate versions mini-series that started in 2005.  
We also have some merchandise over at Redbubble.  We have a couple of nifty shirts for sale. https://www.redbubble.com/people/jeffrickpresent/?asc=u
You can also check out the art we talk about at our website: https://jeffandrickpresent.wordpress.com/2019/07/07/power-pack-27-whose-power/
We had a listener, Mark Melton, who sent one of his friends pieces of artwork which we have added below. Mark Marianelli is the artists name and this is his website. http://www.6amcomics.com
Check it out!