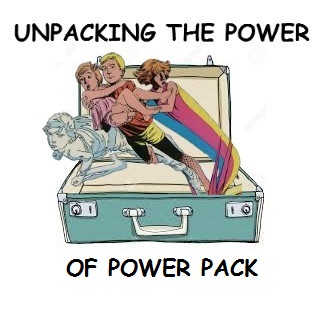 Take me home...old country roads...to the planet...I am from!!!!
There is a reason I do not sing, but I cannot remember why? Anywho, the kids are heading home from their space oddity. And is a good thing too. I mean, the Power Parents are worried, Cloak and Dagger are getting all fidgity…..and the Fantastic Four even noticed….I mean, look, they left a note!
There is not much action in this comic, but that is ok. Instead, we have some really good character beats and moments, and a scene where Jack grabs Dagger. But mostly, this is about families and dads. Which is good, because we got two big daddies bringing you this fantastic Power Pack action. And there is also this moment where Alex seems to have forgotten talking to Katie back in issue number 13....
During the thank you portion of our show, we mentioned Stephen Gray and the really cool Friday 3D printed model he made. If you are interested in trying it out, here is the website where you can download the design. www.thingiverse.com/thing:3643404
Don't forget  to support us on Patreon, https://www.patreon.com/JeffandRickPresent.  We have started to release monthly episodes for our Energizer and greater tiers. We are covering the alternate versions mini-series that started in 2005.  
We also have some merchandise over at Redbubble.  We have a couple of nifty shirts for sale. https://www.redbubble.com/people/jeffrickpresent/?asc=u
And you can always check out our webpaqe at, www.jeffandrickpresent.wordpress.com
Share
|
Download(

Loading

)