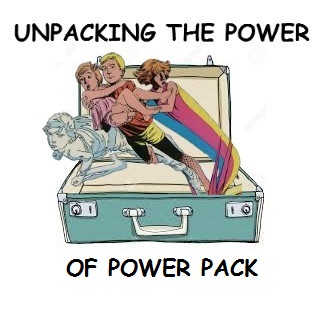 I bet you forgot that we are not an interview show….we certainly did. Lucky for you, we eventually remembered that we are a baking show!!
Nope….that is not right….Are we a winter sports show?
Does not feel accurate! Oh, we are a show that talks about haunted houses and ghosts!h
"NO YOU IDIOTIC HATCHLINGS! THIS IS A SNARK SHOW!"
Close....we are a Power Pack show. And in this issue, we have the prelude to the Snark Wars. Before that storyline can start, we decided to let the kids play in the snow. What could possibly go wrong?
Oh, yeah...Alex can behave like a possessive jerk and get into a brawl with another kid. That seems about right.
But at least they can trust Jarvis!
Just sit back, have a nice bath,
....And wait for a nice girl to propose to you while listening to our podcast!
Don't forget support us on Patreon, https://www.patreon.com/JeffandRickPresent.  We have started to release monthly episodes for our Energizer and greater tiers. We are covering the alternate versions mini-series that started in 2005.  And also be sure to visit us on our website to see some pictures from this comic. https://jeffandrickpresent.wordpress.com/
Share
|
Download(

Loading

)