Episodes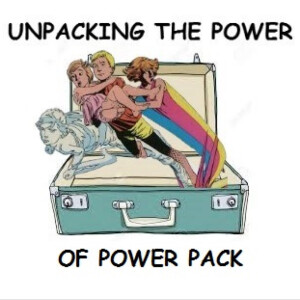 Sunday Oct 23, 2022
Sunday Oct 23, 2022
This episode features our favorite toe-headed kid, his best friend, and a guy made of fire, invading a toy store owned by a guy with a bow tie and featuring an alien who pops. In honor of that, I would like to review some of the excellent offerings in this years Amazon Holiday Kids Gift Book: Share the Adventure.
I was surprised to get a toy catalog in the mail this year. It moved me back to my childhood at the same time as shocking me to see something so analog in the digital age. But my cynical nature took a back seat when I turned to page 49 and I saw a transforming Lego version of Optimus Prime. I mean, c'mon folks. This book is the dreams of my childhood today!
Actually, if we want to move a page prior to the last one, we have even more Lego sets. One flavor for every child. You have sets that cover fantasy, history, magic...and popular franchises that ask us to buy everything associated with it. But I digress into negativity as I review this trove of treasures.
Let us turn to page 42. Since that is the answer to Life, the Universe, and Everything, I would expect to find some truly inspiring toys, and I was not mistaken. Batman takes this page, and a bit of the next with He-Man and other. What we are given is a treat of awesome action. Not only can you fulfill your desire to explore a Bat-Cave, but you can also carry a Lego Havoc staff that stands 40.5 inches tall. One moment, I need to add something to my wish list.
Sometimes you have to think about more than just the kids in the world, sometimes we need to think about the adults, especially the really cranky ones, like Maestro. In those cases, I would suggest page 51. There is an amazing selection of plushys from teeturtle. I mean, who would say no to and Octopus plushy. And there is also the Care Bears....THE CARE BEARS. Caring is in their name!
Everyone loves to play a game. And this catalog has some ideas for you. On page 65, they dare to ask the question, what Monopoly variations have we not done? My question back to Hasbro, where is my Power Pack Monopoly game? Checkmate!
No Love for the Human Torch in this book, it is all about the wall-crawler on page 37. Spidey and his Amazing friends (not featuring Iceman or Firestar, cowards!) have an entire page to entice the kids. you have these cute little characters and vehicles, and of course more Lego. There is always room for more Lego.
There is so much more in this book that we can talk about, but I really do not have time. I kinda chose this as a framing device because I thought it would make writing this page go faster, but instead I am looking up pages that I find interesting and not getting this podcast out. Besides, you stopped reading a while ago.
We need to just sit back and thank Amazon for giving us a catalog. As children, we used these as a gateway to imagine all of the wonderful things we wanted, and then to have the crushing weight of reality destroy us as we opened presents. We should pass on that tradition to our children.
If you want to see some images, check out our webpage for this episode at: https://jeffandrickpresent.wordpress.com/2022/10/23/fantastic-four-580-the-frank-tastic-four/
You can also subscribe and listen to us on YouTube! 
We also have some merchandise over at Redbubble. We have a couple of nifty shirts for sale. https://www.redbubble.com/people/jeffrickpresent/?asc=u
Our show supports the Hero Initiative, Helping Comic Creators in Need.  http://www.heroinitiative.org/
Eighties Action by Kevin MacLeod 
Link: https://incompetech.filmmusic.io/song/3703-eighties-action 
License: http://creativecommons.org/licenses/by/4.0/ 

Tides Of Iron by Alexander Nakarada
Free download: https://filmmusic.io/song/8382-tides-of-iron
License (CC BY 4.0): https://filmmusic.io/standard-license
Artist website: https://www.serpentsoundstudios.com/