Episodes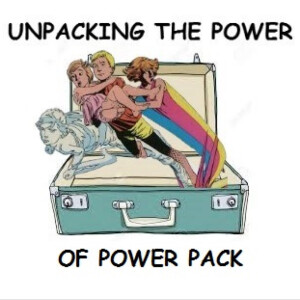 Sunday Sep 25, 2022
Sunday Sep 25, 2022
PARTY PEOPLE IN THE HOUSE!!!! Shakka Lakka BOOM baby! We are starting the Fantastic Four/Future Foundation/ Hickman RUN! Hold onto your seats, it is about to get HOT in here!
OK, what do we need to know before we start this run. We probably need to know some basic fundamentals about this book, so pay attention. We are only going to do this one time.
First, this is a comic book, which means that you will be expect to find and interpret a combination of picture and words that together form a cohesive story told in some semblance of a linear fashion. Of course, there are a variety of ways to convey thoughts and ideas, but this is the traditional method we are used to.
Because we are consulting a known periodical variety, this physical copy will be made of paper and have on average two staples holding multiple pages together. Do not be alarmed, this medium is perfectly safe and the gross number of deaths from paper cuts or rusty staples has dramatically fallen over the years.
I have just been informed that my helpful information is apparently too "basic" for what we are presenting. Apparently I was supposed to provide information on the Marvel super-hero team known as the "Fantastic Four" in order to prepare our listeners for this next run of comics.
Well, this is a heck of a problem. I had an entire thesis prepared on the the development of the modern comic story line juxtaposed with the decadence of the west and cultural influences from Japan. I guess putting time and effort into redefining comic book ages is just not something the masses are ready for. You all just want to sit around and eat cake.
Whatever. The Fantastic Four are a group of super-heroes in the Marvel Universe and they are known by a lot of people. The end.
Oh, you need more. OK. They know Power Pack too.
My feelings are hurt and I did not prepare for this. I just am done. What do you people want from me? Get off my back.
If you want to check out our website, please visit: https://jeffandrickpresent.wordpress.com/2022/09/25/fantastic-four-574-days-of-future-franklin/
You can also subscribe and listen to us on YouTube! 
We also have some merchandise over at Redbubble. We have a couple of nifty shirts for sale. https://www.redbubble.com/people/jeffrickpresent/?asc=u
Our show supports the Hero Initiative, Helping Comic Creators in Need.  http://www.heroinitiative.org/
Eighties Action by Kevin MacLeod 
Link: https://incompetech.filmmusic.io/song/3703-eighties-action 
License: http://creativecommons.org/licenses/by/4.0/ 

Joy In Your Bright Face by MusicLFiles 
https://filmmusic.io/song/7538-joy-in-your-bright-face License (CC BY 4.0): https://filmmusic.io/standard-license Artist website: https://cemmusicproject.wixsite.com/musiclibraryfiles