Episodes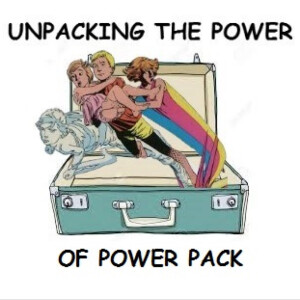 Sunday Aug 14, 2022
Sunday Aug 14, 2022
It is time to do the hawk....do the Darkhawk that is! You know what it is like, you want to do a dance but your only partner has a ruby stuck in his chest. We have all been there.
So this is what it is like to read a Darkhawk-centric issue in the 2000's. A lot of fire, a bit of brimstone, and some serious close-ups. This is just a lot of a lot. Of course people say that about us too.
Chris has a bit going on in his life, and for the most part, it is good. Loving mother and brothers, a good paying job, a plethora of bad guys to beat up. You could ask for a better life, but you would probably have to pay for it.
We should talk about Julie Power. She was in this issue and did not say anything......we have now talked about Julie.
Back to Chris and his mom. This seems like a pretty good relationship. Chris and his mom are talking, and they are not keeping secrets anymore. Sure, he is living back at home, which is such a drag, but he is making it work and making the change.
But what about the new guy, what is his deal? Why should we even care? Why does he have to be all....y'know..Darkhawky? Why can't he know his own dance? Betcha did not think we would circle back to that.
Boom....Mind blown...I know, right?
You can look at some of the artwork we talked about at the webpage for this episode at: https://jeffandrickpresent.wordpress.com/2022/08/14/war-of-kings-darkhawk-1/
You can also subscribe and listen to us on YouTube! 
We also have some merchandise over at Redbubble. We have a couple of nifty shirts for sale. https://www.redbubble.com/people/jeffrickpresent/?asc=u
Our show supports the Hero Initiative, Helping Comic Creators in Need.  http://www.heroinitiative.org/
Eighties Action by Kevin MacLeod 
Link: https://incompetech.filmmusic.io/song/3703-eighties-action 
License: http://creativecommons.org/licenses/by/4.0/ 

Old Walls by Frank Schroeter 
https://filmmusic.io/song/6706-old-walls 
License (CCTBY 4.0): https://www.facebook.com/frank.schroeter.52