Episodes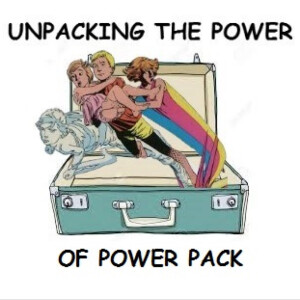 Sunday Jul 31, 2022
Sunday Jul 31, 2022
This is a first for us. A creator that one of us has had the opportunity to meet in person before we interviewed them. Fred Van Lente wrote three of the Power Pack all ages mini series as well as many other works, but of course we are going to ask him about Power Pack, I mean....that is the height of his career, right?
Known initially for his work on Action Philosophers with Ryan Dunlavey, Fred has developed a very good bibliography of writing credit within the comic community. He also has had the opportunity to work with other fantastic creators. Plus, he is a pretty funny guy with some interesting stories to share.
But how does someone become a writer, what is catalyst to move a person into this realm where many dare but few succeed. The first step is to find yourself in a place you want to get out of, followed by choosing a career path that you quickly realize is not for you. These were, fortunately for Fred, the exact elements that put him on the path to where he is today.
But it is not all about Zombies and big headed creations bent on evil. Sometimes Fred give back something for the kids. Like we mentioned at the top of this rant, Fred worked on some wonderful Power Pack story lines. And while he did not get the opportunity to pull out a full series, he was able to produce a set of work to be very proud of.
So sit right back and take a listen as we bother this nice man about his past and what makes him such a fascinating writer.
Check out some pictures online at our website: https://jeffandrickpresent.wordpress.com/2022/07/31/interview-with-fred-van-lente/
Don't forget to support us on Patreon, https://www.patreon.com/JeffandRickPresent.  We have started to release monthly episodes for our Energizer and greater tiers. We are covering the alternate versions mini-series that started in 2005.
You can also subscribe and listen to us on YouTube! 
We also have some merchandise over at Redbubble. We have a couple of nifty shirts for sale. https://www.redbubble.com/people/jeffrickpresent/?asc=u
Our show supports the Hero Initiative, Helping Comic Creators in Need.  http://www.heroinitiative.org/
Eighties Action by Kevin MacLeod
Link: https://incompetech.filmmusic.io/song/3703-eighties-action
License: http://creativecommons.org/licenses/by/4.0/