Episodes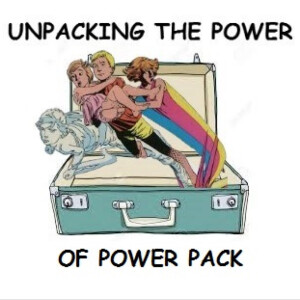 Sunday Jun 19, 2022
Sunday Jun 19, 2022
This is it, the end of the Loners....well, sort of. We still have a couple more appearances of this team, but this is the final issue of this crazy run, so we should reflect on what we have learned.
I think we can say that this series is not complete, and is a little strange. It was experimental and challenging, and unexpected. And whether you like it or not, you have to appreciate the ambition of it's creators. Experiments are not always successful, but they can be interesting.
So what failed in this series. Probably some of the re-characterization of Julie. You can see some of the characterization that Weezie originally conceived, but there are some changes that are uncomfortable. She is an underage woman who has been sexualized. While I am glad that it is not more than just the eye candy view, and her response to being attacked was great, it still felt strange.
Speaking of which, there was a definite effort to make this more of a teen+ book with the more adult themes. More relationships, discussions of addiction and trauma, and sex. There is a lot of meat that the creators where sewing into the story in order to build a future story. They just did not make it.
I would not punch this series and call it bad. I would say that the series is not for everyone, and it is not complete. But I want to recognize some of the great beats the story provided, and the discussion we had. And it is always about the journey....right?
Sometimes we read some content that leaves us feeling a couple of different ways, possibly fighting feelings about how we will land on the material. That can be good. It is always helpful to challenge the status quo. We need some growth and change...and we need to see two Darkhawks beat each other up.
We are going to see these cats in a a few more issues, but this is the end of The Loners series. Bye The Loners!
You can visit our webpage to see the pictures we talked about: https://jeffandrickpresent.wordpress.com/2022/06/19/the-loners-v1-6-double-identities/
You can also subscribe and listen to us on YouTube! 
We also have some merchandise over at Redbubble. We have a couple of nifty shirts for sale. https://www.redbubble.com/people/jeffrickpresent/?asc=u
Our show supports the Hero Initiative, Helping Comic Creators in Need.  http://www.heroinitiative.org/
Eighties Action by Kevin MacLeod 
Link: https://incompetech.filmmusic.io/song/3703-eighties-action 
License: http://creativecommons.org/licenses/by/4.0/ 

Clenched Teeth by Kevin MacLeod
Link: https://incompetech.filmmusic.io/song/3517-clenched-teeth
License: https://filmmusic.io/standard-license